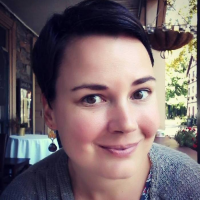 Jillian Eaton
Historical Romance, Romance
Jillian grew up in Maine and now lives in Pennsylvania in a 100-year-old house she and her husband are slowly renovating. They welcomed their first child in August and also have three dogs which at times can make for a chaotic household, but they wouldn't have it any other way.

Jillian self-published her first book, A Brooding Beauty, in 2012. Since then she has written over twenty novels and novellas. All of her books are character driven with strong, intelligent heroines and dashing heroes.

Some of Jillian's favorite authors include Judith McNaught, Lisa Kleypas, Nora Roberts, JK Rowling, and Stephen King.

Jillian loves horses, coffee, getting e-mail from readers, ducks, and staying up late finishing a good book.

She isn't very fond of laundry.
When I discovered libraries, it was like having Christmas every day.
Jean Fritz